State health insurance in Germany – called the Gesetzliche Krankenversicherung (GKV), covers the country's vast majority of the population.
To ensure the state-run public healthcare system is easily accessible to those who're unemployed or on pension, it's funded by the social security insurance contributions of both employers and employees in addition to being subsidised by the government.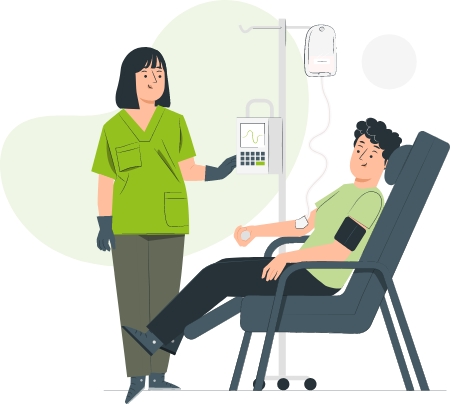 Key Facts About State Health Insurance in Germany
In 2022, if your annual earnings are under €64,350 per year or €5,362 per month, it's mandatory for you to be enrolled in the state-run health care system (GKV).
In case you've already got a job offer in Germany, you could talk to your employer about getting enrolled into the state-run health insurance scheme, although you'll have the right to select your insurer yourself and don't necessarily have to go with your employer's suggested provider.
When it comes to the insurance premiums, it would depend on your income. All employed workers in Germany have to pay a statutory health care insurance contribution, which is a part of their social security contribution. Typically, this is 7.3% of their gross paycheque, which is matched by their employer for a further 7.3%, thus bringing the total contribution to 14.6%.
In other words, a fixed percentage of your income would be used to pay for your health care. At present, this includes the basic premium of 14.6% together with an additional charge of about 1%, plus 3.05% (+0.25% in case you're childless after the age of 23) for nursing care insurance.
The maximum monthly salary used to determine your premium is €4,837.50. Assuming you're earning at or above this income threshold, the maximum premium you'll have to pay for your medical and care insurance would be around €770 (there's likely to be slight variations to this figure as different insurance companies operating within the state health care insurance levy different supplementary charges). Thus, your own contribution would be around €385 while your employer will pay the rest 50% or €385. On top of this you will charged around 147 € for the long-term care, your employer will contribute half of this as well.
Since Gesetzliche Krankenversicherung (GKV) is a family insurance, partners with an income under €450/month and children are insured automatically with you at no additional cost. But you need to be aware of the hidden costs in GKV. An excess of €10 will be charged for every day spent in the hospital (up to a maximum amount of €280) and up to €10 per prescription (applicable just for generics) amongst other costs and certain costs will not be covered at all such as dental cleaning.
Apart from extreme medical cases, no coverage is given on glasses while you'll just get partial coverage for dental health. However, you can supplement your state health insurance in Germany through a supplementary private insurance cover.
If you decide to move out of the state-run healthcare system, you should remember that it would be extremely tough (not impossible though) to get back into it. For navigating the maze of the state-run health insurance system, contact us today!
In Europe, the country that's one of the biggest spenders on healthcare is Germany.
A notable 11.1% of its annual GDP is spent on healthcare expenditure. Only two other countries, namely France and Switzerland, spend more in terms of GDP percentage. Annually, German healthcare spending is just over €4,000 per inhabitant. The majority of this expenditure is covered by the nation's public and private insurance contributions. Through its state-run insurance, the German government ensures that those on a low wage or out of work would still have health coverage and would be able to get necessary medical treatment, should they need it.
What do our customers say?
MW Expat is perfectly situated to offer professional insurance solutions and pension savings schemes to Germany´s ever growing expat community.
Would recommend for sure!
"I initially came across MW Expat for retirement solutions, but after a thorough and pain-less introductory call, we decided that I should first focus on my current expenditures. Everything was very straightforward and the communication was frequent and clear.
Alina from München​
"Mark of MW Expat is a great advisor. He is always available for friendly, professional and practical financial advice. Finance is a complicated topic (especially across multiple languages) but Mark makes that simple and understandable. Highly recommended.
Scott from München